Greece wasn't reached in a day
True story.  Actually it took us nearly 2 weeks to get to Greece. But we decided to travel slow and enjoy it as much as we can. And see if vanlife is our thing. We had about 6 weeks for the trip, before Joris needed to get back to Poland for finalising some administrative things and before we could leave again for a longer time.
Slovakia
We spent our first night close to the border with Poland, with a breath-taking view on the Slovakian side of the Tatra Mountains. It was a beautiful spot, in the middle of nowhere, surrounded by nature. We were visited by some deer, that were more curious than scared. We were scared though in the morning, when Joris wanted to go for a run – we saw a wolf that was slowly approaching us. We thought it could be a dog, like a malamute or husky. But there was something wild about it. On the other hand it was rather curious and not crouching when approaching us. But it got us return to the bus and stay there until he passed by and we could see a red collar around its neck. A dog. So Joris went running, Agata did her stretching. The dog was running here and there, but mostly far from us. Then we heard voices. Calling a name repeatedly – apparently the owners of the animal. Joris was asked if he had seen a dog. He confirmed he saw one with a red collar, looking like a wolf. The owners said indeed, it was a domesticated wolf. So a wolf then. We hope they found him eventually…
Then we took some twisty roads, enjoying the low traffic, perfect weather and beautiful autumn colours.
Hungary
Joris has never visited Budapest so we made it a "must see" place on our list. We found a nice camping (Camping Ave Natura) opened till end of October, so we were right on time, stayed there for two nights and took one full day to visit the city. We did some serious walking around and still have not seen everything. Obviously it is not possible to "do Budapest" in one day, as everything is just so impressive. We had stiff necks in the evening from looking up and admiring the remarkable buildings.
Otherwise our trip through the country was rather dull as the roads or landscapes did not impress us, at least we did not find too many interesting spots on our route.
Serbia
We headed on to Serbia, and Agata had that idea of visiting a colleague she used to work with. We were exiting EU/Schengen Area during COVID-19 times but at the border we were only asked where we were going (to Greece) and for how long we planned to stay there (2 weeks). The questions came after our passports were stamped, so were not really determining or affecting our entry into Serbia.
Later in the day we were welcomed in Novi Sad by Bilja and Alex and their two sons. Initially we were not impressed by the town and we thought why would they move here, from Belgrade? Soon we knew why. The suburbs were not too inviting, but, honestly, they never are. However, the downtown was lovely and we had a breeze through the city in the evening (after first being treated like kings on a small feast consisting of domestic meats and a Serbian cake) and finally ended in a pub drinking delicious local craft beer.
Bilja suggested that we visit Belgrade and Alex advised we drive through Northern Macedonia.
We liked both suggestions, so paid a short visit to the capital of Serbia, taking a longer but beautiful road through Fruška gora. As we wanted to stay there for just a couple of hours there we chose one place, the Kalemegdan Park and the city fortress. When passing through the city we agreed that we have mixed feelings about Belgrade, it seemed chaotic in terms of architecture – nice monumental buildings mixing with ugly monumental cascading blocks of flats.
We exited Belgrade and stayed at a nice camping (Camping Avala) not far from there capital, that we felt was opened just for us. It was quite windy, but the stay was pleasant. Pity, we could not taste the wine produced by the owners.
We moved on south, the landscapes became more picturesque and we finally made it to a scenic camping spot in the proximity of Đavolja Varoš, Devil's Town. The next day we decided to continue along the twisty mountainous gravel road and it was a great test for our 4×4.
Next day we stayed again at a camping (Camping Enigma), that seemed to be open just for us. Extremely friendly attitude and hospitality. And from there we had just a couple of hours to the next destination.
North Macedonia
The border was again not a problem, but it was the first time we were asked about being vaccinated. We showed our passes and we could move on. One thing we started noticing though already in Serbia here became even more disturbing: Garbage. Waste. Litter. Trash. EVERYWHERE. So disgusting…
We entered Skopje and found a guarded parking, so we had some peace of mind when having a walk in this peculiar city. On one hand everything was monumental, and on the other – kitschy. Gigantic statues of ancient heroes (remember: Northern Macedonia is a former Yugoslavian republic, but with great historic aspirations forcedly attributed to figures more related to Greek civilisation) and on the other side of the bridge an old Turkish bazaar. And above that ruins of a 6th century fortress. Not really an obvious destination, but a definite must-see.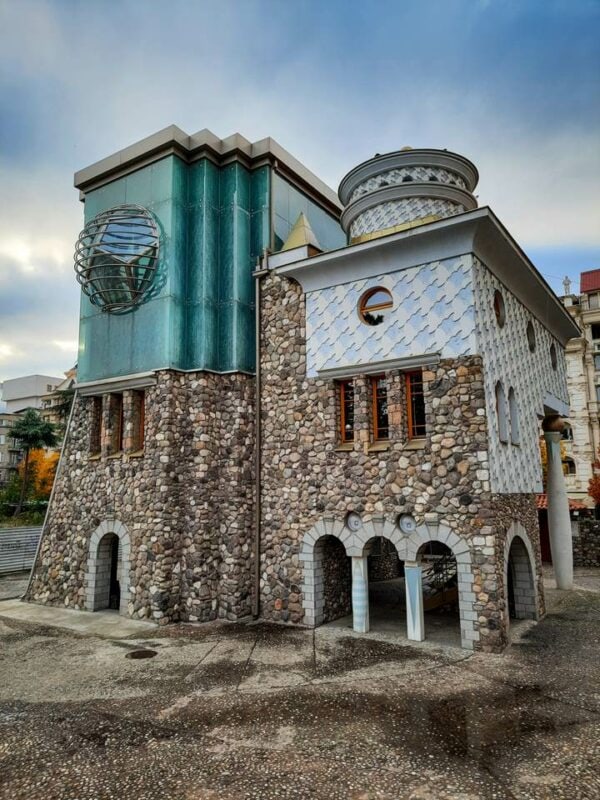 We exited the capital through suburbs where we had the feeling that the wheels would be stolen from our car while we were in it and driving. And just half an hour later we were in a different world – Matka Canyon. A quiet and relatively clean place where we parked in front of the restaurant, had a "fancy dinner" spending last local money as well as last Euro (in coins, which did not make the owner happy) – but as it was Joris's birthday, we thought we could do that, and stayed at the side of the road for the night.
Then we visited a famous flooded church in Mavrovo. The church was maybe special but it was not really worth visiting as much as the stunning road that led to it. The beautiful route continued through Debar to Struga and Ohrid lake, where we stayed and chilled in an abandoned campsite. To be fair the following night we stayed at a great camping (Camping Rino), as we saw some familiar stickers on their door.
We decided to pass through Galicica National Park and again we had some fantastic views while the road climbed up with hairpin turns. At the top pass we met an older Greek guy (with his son) who spoke perfect Polish, but as Joris could not follow 100% we switched to German (so that Agata could not follow 100% but still more than Joris would understand in Polish ;)). We talked about various things, ate delicious apples offered by them and then took the road down the other side and again ended in a different landscape and finally at the perfect wild camping spot by the Prespa lake. Another van showed up at that location overnight and we had a nice talk with the German-South African couple in the morning, mainly about travelling through South Africa and what beautiful places and roads we should see there when we get there. They had their chill day, so we left them to that and headed on to Greece. In Ohrid we wanted to buy a bicycle tyre (one tyre on one of our bicycles got damaged due to reckless strapping), but with two ATMs refusing to give out the money, and Joris getting too frustrated about the potential loss, we gave up and went on.
Greece
Exiting Macedonia was again no problem. However, before entering Greece we needed to fill in a Passenger Locator Form (needed to be on-line, so we used WiFi on the petrol station where we also fuelled up, as the diesel price in Macedonia was 1.1 EUR compared with 1.5 in Greece and with a 80+ litre tank it made a difference :)) and we needed to have a rapid antigen test (actually it was our first test since the coronavirus appeared on the world map) and then we could enter without any problems or further questions.
Our goal was to reach the coast as soon as possible, yet still avoiding highways. The first night we spent by the side of the road in an apparently popular fishermen spot in a small city of Kastoria.
The next day, after a tiring but rewarding drive through small twisty roads we heard the waves of the Ionian sea. We enjoyed the small bay and the beach so much that we stayed there for a few nights. We thought that the locals really keep the place clean and even mow the grass, but on one evening the place got literally flooded with a flock of sheep, so the mystery of having the grass under control was solved. The shepherd was a friendly guy, who had previously worked on a cruise ship, therefore speaking some languages, so we had a very nice chat.
We slowly moved down the Peloponnesus, from one beach to another. We mostly camped wild and only visited camping spots from time to time. We even spent one day at the laundry shop and it was a new experience for us – just to sit and do nothing for the whole day while your stuff gets washed and dried. We could not even do any shopping, as on that day there was a general strike of the shops against covid-related restrictions. As a result we needed to eat some canned fish and of course the tomato sauce from one of the cans ended up on Agata's sweatpants that few hours earlier had been taken clean and nice smelling out of the dryer…
Anyway, this was not the only time we experienced Greeks being on strike – when we wanted to take ferry, as it was a cheaper option than crossing the Rion-Antirion Bridge (and from the ferry you can fully admire the nice construction of the bridge) it turned out, that the ferries were on strike for 48 hours, so we needed to take the bridge anyway…
As we were in Greece, we wanted to visit some well-known places, too, so we took a look at the Ancient Olympia, just to imagine how developed the Greek civilisation was ages ago.
We also visited Sparta, and actually had one of the most if not the most beautiful camping spot there – on the hill, next to the Menelaus and Helen temple, with a view on the city and accessible through narrow roads in olive groves.
Athens was on the bucket list of Joris, so we went there, too. We stayed for two nights on a parking near the Dora Stratou Dance Theatre, that was within a walking distance from main attractions of the city like the Acropolis (we just walked around, as the entry price was just too high), Syntagma (changing of the guards was extremely impressive, especially to Joris who has not seen this before) or Kallirrois street, where probably all the bike shops and garages are located 😉
Exiting Athens was also quite an experience – we crossed the hills that were devastated by wildfires. It looked a bit post-apocalyptic and haunted, the miserable weather with a drizzle, cold wind and low clouds caused the bone-chilling feeling and seeing the burned villas, golf clubs and horse-riding facilities was more than depressive.
We actually had three disappointments in Greece. The first one was the Corinth Canal – it looked very small and unimpressive – but maybe because we saw it at its eastern end, when it joins the sea so its walls were not too high anymore.
The second one was Thermopile – we wanted to have a bath in the hot springs, but the place was no longer welcoming – with garbage in the water and refugee camp and few police cars located right at the spot. At least the Leonidas statue was still there…
The third one was the general impression from Greece between Athens and Thessaloniki (and the surroundings of the latter one) – more dirty and industrial and less welcoming.
But Greece is not only about landscapes. We also took the opportunity to eat as much local food (feta cheese, olive oil, olives, fish and lamb chops as possible, as well as enjoy the local wines at a great price/value ratio.
And speaking about prices – Greece turned out to be more expensive than we both (and especially Joris) expected. Apart from wine, everything seemed to be as expensive as in Western Europe.
Bulgaria
Exiting Greece made us feel that we are over the hump of our trip and are on the way back. The border crossing was not too bad. A lady in the health control booth did not want to see our vaccination certificates, as she said we were transiting, and we did not object to that statement. Following having our passports checked, we were asked to go on the side for the luggage check. However, after we opened the side door of the bus the guys lost interest in checking anything – they just saw basic camping setup and let us go without even checking the papers of the car. We were a good few kilometres into Bulgaria when we realised we need a vignette for using the roads there. We tried buying it at the first petrol station, but they were not selling them. We were successful on the next station.
First impressions from Bulgaria were very positive – it was clean and we could see the country is developing. We filled our water bags with the water from the spring next to the road and drove through the mountains between Rhodope, Pirin and Rila National Parks. As it was a Saturday, which means a day when you take a bath 😉 we treated ourselves into a SPA camping – Thermal Camping Velingrad – with pools and saunas. It was so nice, we decided to stay one day longer and pamper ourselves a bit more. We also had a nice walk into the city, and ended up visiting a busy local market, offering everything – from food to clothes, and there was even a flea market section and that is always something interesting. We had a walk on one of the routes offered by the nearby pulmonary disease hospital to its patients and made friends with lovely Turkish guys that also stayed at the camping (they offered us raki in the evening and real Turkish tea in the morning).
Our next stop in Bulgaria was a city of Plovdiv, the city of 7 hills. We again stayed at a modern camping near the city – Glamping Alliance. The city itself turned out to be very nice, even though the weather was not perfect for walking around. We were impressed especially by the ancient stadium and particularly how big it was.
On the day we left Plovdiv the weather changed from bad to worse, it even started snowing, which was not really in line with our plans of going up the mountains to see the Buzludzha Monument. As we went up the road, the snowfall got heavier and clouds got denser. We reached a point where we needed to take a decision – go into the side road for last 2.5 km and attempt to see the monument, that we would probably not see anyway due to the fog and clouds, or admit the defeat and go down. We chose the latter option, but decided not to take the same road down. As a result we ended up ploughing through the deep snow on the unfamiliar, twisty, forest road for 10 kms, with snow freezing on the windscreen wipers, ABS not working, and having no snow chains in our equipment. Agata was so scared she almost stopped breathing not to disturb Joris who was driving. We could not afford to stop there as then we would certainly get stuck, despite having a 4×4. When we reached the main road it was not much better – actually the whole Shipka Pass was closed to traffic (in fact we got on the other side only because we by-passed it through the small roads). It was extremely slippery, yet some other drivers had some fantasy to overtake us at pretty high speeds – we later saw one of them crashed at the side of the road. At the end of the day we rode up to Motocamp Bulgaria, just to say hello to the owners and maybe have a chat over a beer or tea. But actually we were not welcomed there that day (later we knew why and it was a good reason, however could have been communicated better than something like "this place is only for bikers, we are closed and the big city is 20 km away"). We were a bit disappointed, but, as always, every cloud has a silver lining so we ended up few villages further, welcomed by wonderful travellers  – or rather one, Silke, as her husband was out in Germany for family matters. Instead of just spending there one night, we spent three days, talking about travels, plans, motorbikes, vanlife, equipment, experience and much more. For the last day, the place became a real meeting point as another van came by, so we had even more stories to exchange. A true overlanders' meeting "in the middle of nowhere".
Romania
Slightly rushed by the expiring vignette, we crossed to Romania, and headed to Bucharest. Agata wanted to meet Ada, her former colleague and visit the city, as she has never been there. Initially we wanted to stay on a parking in a city centre, but the guard doubled the price as we were "a camper" and it became so high, that we could rent an apartment for the same amount. Which we did, as it was an obvious choice to have a shower, kitchen and a normal bed for the same price. As the weather was lousy, restaurants closed early and we did not feel we had enough time spent with Ada, we decided to stay for one more day. That allowed us to have a walk in the city, meet with Ada again and Joris could visit a barbershop, too.
From Bucharest we went towards Transylvania, with an lovely overnight stop near Bran. Then we went to Sibiu, where Joris lived and worked for 2 years over a dozen years ago and wanted to visit his friends and former colleagues. We stayed on a Camping Nomad Sibiu, which was a bit noisy as close to the main road, but still convenient and within a 40-minute walk from the centre. Agata has never been there, and found the city nice and resembling her hometown of Krakow a bit. The meetings with Joris's friends were great and brought back great memories.
Hopping to Poland
After visiting Sibiu, the plan was just to get back to Poland, as Joris finally got the date of his appointment to finalise the paperwork. We spent last night in Romania camping wild somewhere "in the middle of nowhere" and coping with Agata's fear of the van leaning on one side when going through muddy ruts.
Entering Hungary was the most time-consuming border crossing on the entire trip. Every car was checked thoroughly and we even saw that guys from one car, towing another car, definitely for sale, needed to unload it and leave it behind as probably some papers were missing on not in order. We managed to cross Hungary in one day and stayed overnight close to Slovakian border.
Slovakia was in full lockdown so we did not want to stay there overnight, rather cross the border in the morning and exit few hours later. We did that the following morning – we chose a tiny border crossing, crossed through the country "unnoticed" (and not seeing any foreign number shields) and entered Poland through another small border crossing. A few hours later we parked in front of the place we stay at in Krakow and officially ended the trip to Greece.
However, as we were still in the mood of going to Christmas Markets in the cities we visited, we took advantage of the free public transport the following day and went to the Main Square to enjoy the overpriced mulled wine and atmosphere of the city. Actually it was nice to return and see how beautiful the city of Krakow is.
People
Travelling is not only about places. It is about meeting people. And we met a lot of great ones on our trip, few of them we want to mention below.
A fantastic German family, travelling with their Big Baloo camper. We met them a couple of times on our way and apparently got some appreciation from the youngest, Madita, who honoured us with some pictures she made herself. One meeting was very special, as they gave a lift to a travelling couple, and the farewell turned into a small sing along event… we even used it in our video from this stage 🙂 You can follow them on Instagram: imagine_if_life
Jake, a US biker travelling across Europe on a Suzuki DL650 he bought in Croatia. We met in Greece, had a long night talk by the campfire and over a glass of wine. Or a dozen. You can follow Jake on Instagram: _moto_photo_
Tom – a guy doing a bicycle ride from London to Athens. We met him a day before him reaching his destination. We ate a dinner together, talked and agreed on a race towards Acropolis. We slept long enough that he made it there ahead of us, but we still managed to meet again on Acropolis. You can follow Tom on Instagram: i.am.tom.joseph
Silke – a truly inspiring woman – biker and traveller. We did not manage to meet her husband, Jan, but the World is small and we are sure we will meet in the future. You can follow Silke's and Jan's adventures on https://travelove.org and social media.
Jenni and Flo – full-time vanlife travellers, whom you can follow on social media, just look for der_katastrophenschutz_bus
Vanlife
We dived more deeply into living in a van, met some interesting people, for whom this is the way of living for much longer. We saw many interesting vans / campers, from huge to small and from super vintage to extremely modern, self-made or equipped with super professional stuff. At times we felt small with our T4, but at the same time we could reach more remote locations. We did not have a full size shower, kitchen or fireplace (yep!) but we had a foldable shower and a plastic bowl, few stoves and heating, so we had all we needed. And actually once we ended up lending our table to other travellers. Also, in some places filled with modern campers we were asked some questions on the setup and equipment we have, as it was apparently interesting to other drivers.
Or van turned out to be a very good companion for the trip. We had one problem with it – turbo was not engaging – but the cause was diagnosed and fixed within 5 minutes in Auto Leo Garage in Sibiu – there was a small crack in the vacuum hose so just getting rid of the faulty part of it solved the problem. The other small issues were known ones so there was nothing that surprised or bothered us.
We think it was again a good test for us and our relationship – being 24/7 on literally 5 square meters is pretty difficult. Yet, you get so used to the other person just being there, that when Joris went shopping alone to a village 10 km away from where we stayed, he felt strange and insecure when Agata was not there at the other seat.
It was also a good check of the equipment and what we actually used and needed. We realised that we had much more stuff than we required, even though we took mainly the gear we were carrying on our motorbikes. Because of that we think we can further reduce our luggage size and travel lighter on motorbikes.
Getting fit
So, this was the biggest disappointment of this stage. We had ambitions to get back into good shape and after a promising start, we both got too lazy to do as much sports as we intended to. But there was also one more thing – shower. When you are limited or just more strict on water resources then taking a shower and making laundry of your sweaty clothes becomes an issue.
What next?
We realised we were missing our bikes and that we have already "forgotten and forgiven" any issues we had with them. They are ready by now, fixed and checked, so… what can possibly go wrong? We also gave some TLC to our T4, so it is ready for any new adventures.
Tips
All things happen for a reason and a potentially bad or disappointing situation usually turns out to have a happy ending anyway
iOverlander, iOverlander and again iOverlander – a fantastic resource for camp spots. Just keep in mind that things change and places reported some time ago may no longer be accessible or good for camping.
Finding accommodation through booking.com or similar platforms can sometimes be cheaper than staying at the parking – give it a try as you can have more comfort for the same price
You can often find water in the springs located next to the roads – if unsure – ask the locals if the water is potable.
While being in Sibiu, Romania you want to taste the famous ciorba de burta (tripe soup), you need to visit restaurant Prima (and if like Agata you hate tripe, there are other choices, too!)
Video