We decided to leave traveling through Europe for later, but we still needed to cross a few countries on our way to Africa. Obviously France and Spain needed to be on the list. However, we added two more countries – Belgium and Andorra.
Belgium
We needed to come to Belgium for a simple reason – our tyres got worn out enough to have them changed. It was a mission impossible in the UK (yes, the Motoz Tyres are great, but there is one issue with them – availability… finding the model and sizes can be a challenge), but we were able to get them in Belgium. Joris went again for a set of Tractionator Adventure for his GS (they lasted almost 20 000 km on his heavy and loaded bike!). Agata's KTM got a set of Tractionator GPS (Adventure tyres were unfortunately not available for KTM rim sizes) so it would be something new to test 🙂 We got the tyres changed at Allroadmoto – not the first time supporting us in our travels 🙂
As we were in Belgium we wanted to have some proper fries, but believe us or not, it was a struggle to find an open frituur during lunchtime! Eventually, after making a small detour, we found one, serving perfect fries.
France
We had one "big job" to do in France – KTM hit 15000 km on the ODO, so it was time for the oil change and a maintenance checkup. We made an appointment with a KTM dealer in St. Maximin in France, as the bike is still on warranty, so we needed to have it serviced by the official KTM garage. The staff was friendly, the bike was "done" in two hours and there were a dozen of bike shops nearby so we felt like kids in a candy shop 🙂
Apart from that, we just "moved on south. Slowly. We again stayed with a lot of bikers, met through the Facebook Group "J'irai dormir chez un(e) motard(e)" Especially our first stay in France will sit in our heads forever, as we received exceptional care and hospitality. It was actually very difficult to say "au revoir" at some point. Thank you Corine and Mathieu for EVERYTHING!!! And a huge "merci" to Gabin, who drew a fantastic picture for us!
We moved south, but not in the most optimal way 🙂 driving a bit from left to right, visiting beautiful Morvan Nature Park, Périgord-Limousin or Dordogne. We saw endless vineyards near of Bordeaux or Chablis.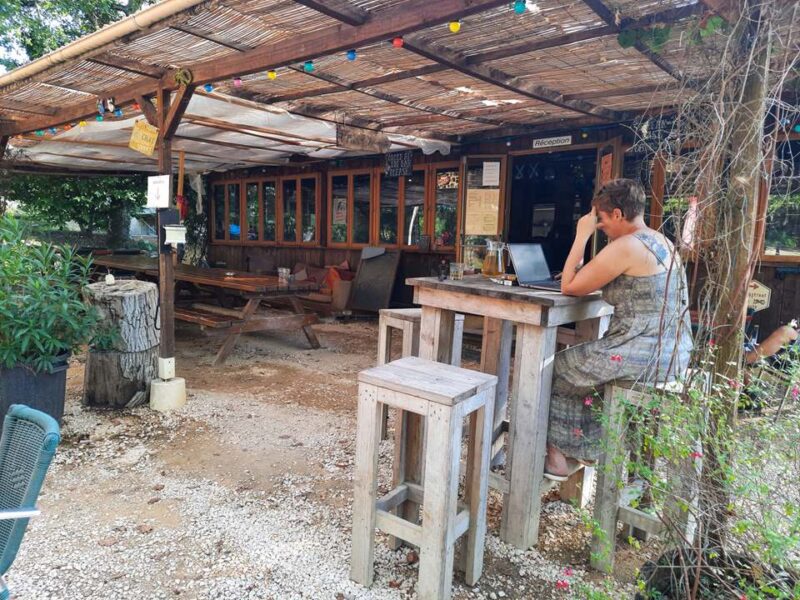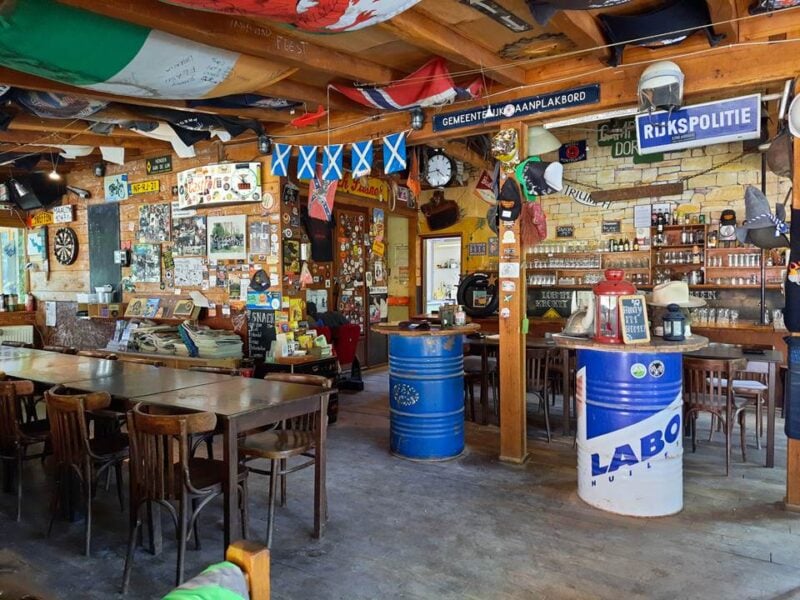 Thanks to another biker, Marco, we visited a very special place – Oradur-sur-Glane – with a very disturbing history. The place gave us chills, despite the hot weather.
Also a huge thanks for the sunglasses – a gift that changed Joris's life 🙂
As we visited Pau, we felt that we are getting closer to Pyrenees, and Spain and therefore to Africa.
Andorra
The visit in this small country was short and sweet. After riding some twisty roads, enjoying the views, resolving a small problem with Agata's KTM losing air in the front tyre, placing a new country sticker on Joris's bike and spending one night on a camping, chatting over a glass of local porto with a fellow biker from Spain, we crossed another border.

Spain
We planned to follow ACT for Pyrenees, but as it always is – plans are one thing and the reality is something else. Yes, we managed to cover some roads featured in ACT, but did not follow the full track even for one day. One of the reasons was the timing and not wanting to risk any potential falls/injuries that could prevent Agata from doing the skydiving course in Empuriabrava, that she was so much looking forward to.
And picture this: we were in the middle of nowhere, at a petrol station when we heard a very loud and emotional shout towards us – it were Xema and Meri – a bikers couple we med when crossing from Dover to Calais. We could not believe we met again in a remote place in Pyrenees!
So, we spent a week "resting" in Empuriabrava, hanging out in the dropzone, meeting with friends and of course having Agata learn to fly 🙂
Last day in Empuriabrava was the grand finale – Agata made her solo jump (yay!) and then we went on a morotbike ride guided by Emilia, a friend, who lives there and who helped with arranging everything for the AFF course. We rode through a few nice mountain passes and picturesque towns. And we ended a day eating yummy local tapas… with a carafe of wine "included in a price" 😉
We continued south, staying for a few days near Valencia with Kasia, Agata's friend, collecting some packages, planning further routes, and preparing for next stages of the trip. It was a great stay, as we not only charged our batteries and had a good rest, but also Agata celebrated her 41st birthday there 🙂 According to Joris Agata is now 41+++++… actually almost 50…
Finally we found ourselves in Spain as we had expected it – dry, full of pine trees, olive groves, deserted villages, ruined castles, with blue sky above. When passing Lorca, we saw a great bike through the window of a garage (a Paris-Dakar modified 1200 GS), so we stopped to have a look. As a bonus, Joris's bike got the throttle valves synchronised 🙂
Through some small roads we went to Tabernas Desert. We did not plan tu stay there for long, but a random meeting in front of a grocery store with Arne, a Germany guy living in Tabernas, again changed our plans. We used the time to explore some scenic routes and a few local offroad possibilities, both, in the riverbeds and on the mountain passes.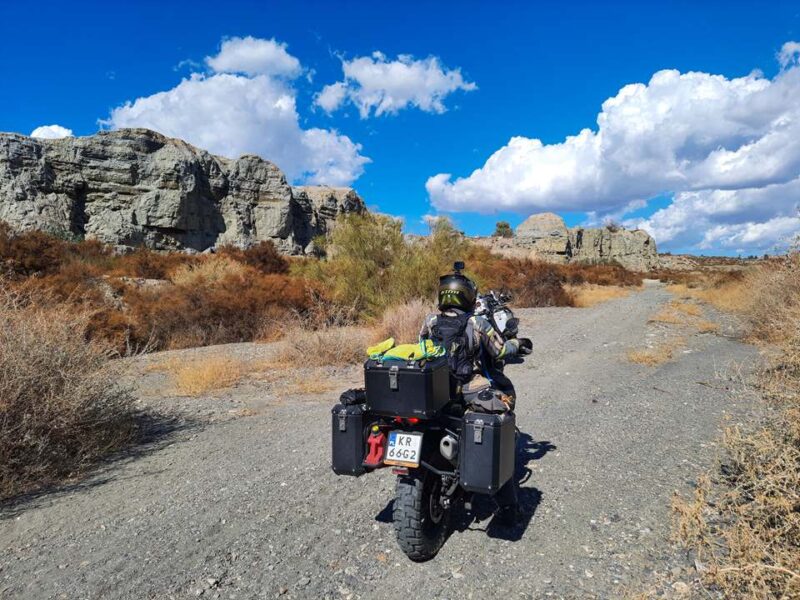 We came closer to Malaga through twisty roads passing by villages famous for drying ham (we passed a zillion of busses with tourists!) and a witch town Soportújar, where Agata dropped her bike in a labyrinth of steep streets and slightly injured her right wrist (did not look or feel broken though).
Then we rested for a week in a small village in the mountains, hosted by Tosh and Beate, where we could plan an organise the last details before crossing to Morocco. The bikes got some TLC, our Carnets arrived, Agata had some rest to recover the wrist from the fall. Than meant we were ready to hop to another continent 🙂 Joris even attended an MC meeting, which was quite an experience 🙂
Bonus: AFF – Skydiving course for Agata
Jumping off the plane with a parachute was Agata's dream since she was a child (along with piloting a helicopter and flying to the moon 😉 ) She actually started the AFF course in Namur, Belgium. However – the dropzone was open only on weekends, the weather in Belgium is far from ideal and then the Covid-19 waves kicked in, so after completing the theoretical part and two tandem jumps she ran out of time before leaving for the RTW (for the first time 😉 ) Joris suggested a dropzone in Empuriabrava, being open all-year-round and after consulting with Emilia, who is a paramotor professional, living in Empuriabrava, Agata was signed up for an individual course with Alain, great and extremely experienced instructor. First day was a ground school, learning all the things in theory. The next day Agata trained in a wind tunnel, that made her feel the muscles she had no idea she had in her body 😉 And then she was ready to jump out of the plane, skipping the tandem jump this time. The first jump was with two instructors but all following levels just with Alain. The objectives were simple – smile, enjoy and don't forget to "pull at 5000 ft".
Of course being a perfectionist as Agata, made it quite difficult to be 100% happy with the jumps and progress, but one thing was sure – she loved it – judging by the huge grin on her face both in the air and after landing. She was able to recover from any instabilities even on the early jumps, open the parachute at the right moment, without panicking if one time it was a bit "too late", do stable and controlled turns and tracking and was laughing loud (!) overwhelmed with pure happiness when the parachute opened.
The first fully solo jump also went well, leaving the hunger for more. Of curse being on the world trip makes it difficult to jump enough to keep "up to date", so at some point a part of the course will need to be repeated, but then we know an address and a fantastic person who can help with that – Alain, it's a promise – when we are back, we come to jump 🙂
Agata: jumping out of a plane with a parachute has always been my dream and I am so happy that I finally made the AFF course. A big thank you to three people that made it happen: Joris, for supporting me and suggesting Empuriabrava as the place where I could do it, Emilia, for providing us with contact details of Alain, and Alain, for being the wonderful instructor who did the magic even with a difficult student like me 🙂 Since completing the course I breathe in a different way, I look up in the sky in a different way and try to remind myself daily that "hey, I can cope with that". Also, I must say, that it is an exceptional feeling to be up there in the air and even though I am not a vocal person (I usually swallow the emotions, whether positive or negative) I laughed loudly numerous times when the freefall was over and the parachute was open.
Hints and tips:
in France look for "municipal" campings – they are usually very decent and cheap
Thank you's
Marina and Darek – for hosting us in Belgium (good luck with the horses! and bikes!!!)
Glenn / Allroadmoto – for support with the tyres change
Corine and Mathieu – for hosting us, feeding us and caring for us so much!!! It was so emotional to leave! (we want to come back!!!)
Gabin – for making a beautiful picture for us (we love it!!!)
KTM dealer in St. Maximin – for great service of the bike
Koen – for letting us stay at your place, even when you were not there 🙂
Marco – for hosting us, feeding us with best meat we had in months, taking us to Oradour-sur-Glane and changing Joris's life with the sunglasses you gave him
Philippe and Pascal – for hosting us
Hans and Motocamp Dordogne – for unforgettable stay at the camp
Nathalie – for hosting us (we loved your bike!!!)
Emilia and Matias – for all your support and meetings while we were in Empuriabrava for Agata's AFF (the fish barbecue was de-li-cious!)
Alain – for the patience with the most difficult AFF student 😉 You are the best instructor ever!!! (here comes a big smile from Agata)
CamperCat4x4 – for hosting us (all the best for your trip!)
Kasia – for hosting us and helping us with arranging the shipments we needed to receive
Arne – for hosting us and advising on the routes near Tebernas
Tosh and Beate – for hosting us and allowing us to use their address for shipping some important documents
Route
Video
Video Logs