We wanted to re-start our travels in June 2022, by attending IZI Meeting. Actually, it had been our initial plan, to make it the starting point for our trip last year, but the meeting was cancelled and probably this was the reason why our trip also did not go too well 😉
We planned two easy riding days to reach Grodziec Castle, where IZI Meeting was held, but then came up with another idea – maybe on the way, we should go to Czech Republic and meet Wouter, a biker that Joris had met during his Easter trip to Belgium? Joris messaged Wouter and just heard "Call me" as a response. Oops, that sounded a bit suspicious. And soon we knew why.
Czech Wedding
6:00 in the morning on 1st June 2022. Our departure time. We needed to be in Czech Republic by 10:30. The weather was not encouraging – it was wet and grey. And we lacked sleep, after having the last farewell party with Agata's family the evening before. We didn't even leave the garage and the first thing happened – Agata scratched her bike's pannier again's Joris's bike, misjudging its width. And ten minutes and six kilometers later, Joris had his own "pannier panic" moment – he did not close the lid of the case and it opened at 120 km/h on the highway. Luckily nothing got lost, but the lock got bent and while Joris tried to fix it, he applied a bit too much force and its mounting broke. We could not do much about it at that time, so just used the magic Rock Straps to keep the pannier closed and headed on to Czech Republic.
We were right on time for the… wedding. The one that was a surprise to Wouter's wife – hence the conspiracy and ensuring there is no trace of messages in writing 🙂 Actually, Wouter and Blanka had already got married during the pandemic times, so without any friends or family and this party was supposed to make up for that. Anyway, it was a full surprise not only to Blanka, but also the families. Only closest friends knew the secret 🙂 The ceremony was held in the middle of the street, with Blanka in shorts and flipflops and Wouter in shorts and barefoot 🙂 We felt extremely privileged to be present there for this exceptional day!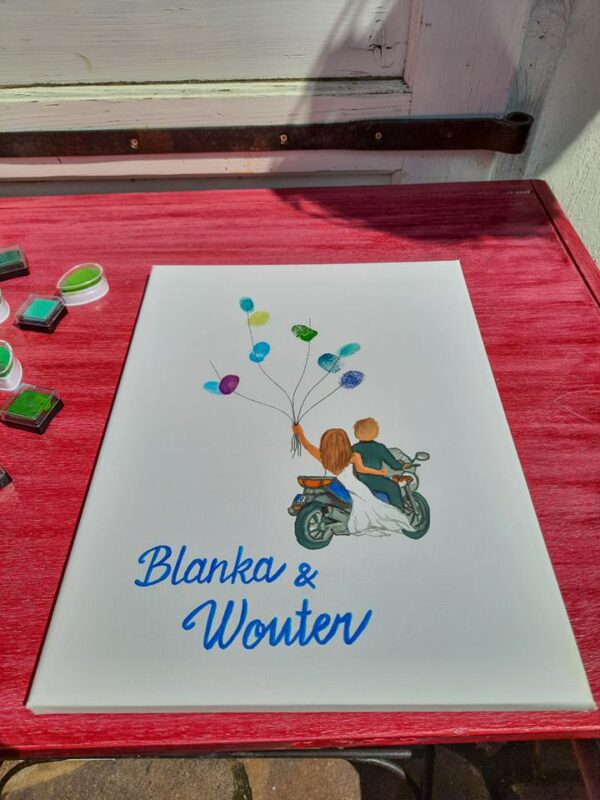 IZI Meeting
We took some lovely small roads and moved on to Poland, for the IZI Meeting. We came a day earlier, and watched the IZI Meeting Team work tirelessly to make the 10th edition a special experience. We were actually surprised that so many bikers already showed up. We bet everyone missed the event, that was cancelled for two years in a row, and just wanted to grasp as much of it as possible.
It was, as usual, a fantastic meeting. Loads of bikers from different countries, laughs, stories shared, friendships started or refreshed, beers drank, calories burned while dancing and memories made. It was great to meet all the women from Baby na Motóry, check on the super high quality products offered by ADV Inside (way to go, Monika!!! ) and finally meet in person Marta and Łukasz from Dream Catchers' Journey – Thanks again that we could steal a few minutes of your stage time to go ahead with our small presentation!
Fun fact: we were the first ones to have a presentation on IZI Meeting about a journey that has not happened yet 😉
We hope to attend the next meeting virtually – and maybe even present something from our trip 🙂
Meetings in Germany
From IZI Meeting we headed off to Germany. We decided to follow some TET sections in the North-East. We were surprised how nice the route was, with a lot of sandy forest tracks and (cobble)stone roads through small villages. There were also a lot of opportunities for camping, in the most unusual places, like a view tower by the lake. Only the mosquitoes were annoying, but we took that as a training before Scotland and midges 🙂
We shortened our experience with TET, as we needed to increase our daily mileage to make sure we are not late for ABR Festival in the UK, so we went more on the bigger roads (still avoiding highways though!). The more West we went, the busier the roads were. But we deliberately went in that direction, as we wanted to visit Coolride – producer of the grip heating systems that we use.  Again, it was a fantastic meeting – we not only met Miriam and Mark Peter the people behind the project, but also took a tour in the workshop, where each and every part is hand crafted with drive and passion you can hardly imagine!
Then we had a rather unexpected meeting with Jurgen, a friend of Joris, with whom we last met in Poland. This time, we met in Bonn and spend a great evening together and with other vanlifers staying in the same spot.
Meetings in Belgium
From Germany we crossed to Belgium, where Joris wanted to say goodbye to his family and friends. As usual, we stayed with Rinnie and Pascal, who seem to feel now more like family than friends, as we are always warmly welcomed and taken care of at their place. And it was no different this time. We were well fed, we had a decent rest and we could spend some time working on our things, too. And we even were lucky to squeeze in an appointment fot a new tattoo for Agata 😉
It was again with tears in our eyes to say farewell and we headed off to Joris's parents. Actually, we had met them not long before, when they had come to Krakow for the first time in their life (and they promised they would return to Poland as they loved the city and country so much!). We had a nice lunch, got a magazine about Africa and again after an emotional good-bye we moved on, to meet some more distant family of Joris. It was great to be there, especially that Joris has not seen Marlene and Ludwig for many years, and Agata had never met them before. And finally – we drank one of our favourite Belgian beers – Orval!
There were still two more meetings in Belgium on our agenda.
First one was a visit at Philip and his Moto Adventure Store – we still needed get some equipment – summer gloves for Agata and Rotopax for the KTM. We not only got the necessary bits, but also had a very pleasant evening, including a ton of fries – a true Belgian speciality.  And we held the first edition of Moto Adventure Store / Moto Adventure Travels Swimming Cup. There were two brave contestants who challenged the mighty distance of the pool in the backyard. We truly hope that the next editions will be even more exciting 😉
From Philip we traveled a bit north, to Oostende. There was a biker festival held that weekend, and we did not miss the chance to attend it. It was the first time at Eastend Meeting for Agata, but Joris was there numerous times in past years. Again we arrived a day early, so we helped a bit here and there and enjoyed the more quiet time, before the official meeting. It was a great time, with music, beer and friends, but also with some injuries that Joris got falling off the stairs because of flip-flops he was wearing were a size too big (but costed 1.49 Euro) – he got some wounds, a bruised shoulder and probably a broken wrist… Anyway – the meeting was fun!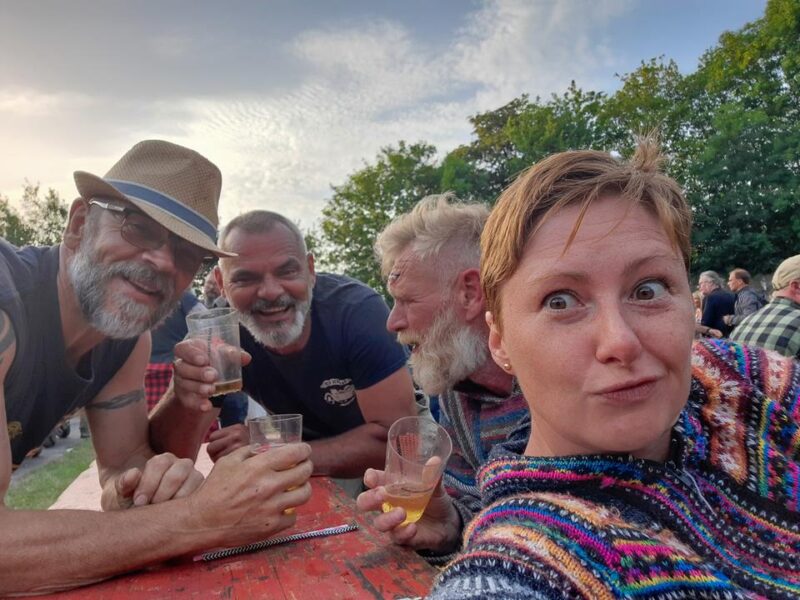 UK – here we come
The last night before crossing to the UK, we spent in France, near Calais, with bikers found through a Facebook group – something like Bunk-A-Biker, but specific for France. It was super – we could sleep inside, as on that day the weather was miserable and we arrived soaking wet.
Next morning we checked in early at the harbour – everything went very smoothly, everyone was extremely friendly and we were the only bikers aboard. The cruise (we took Irish Ferries)  was very comfortable, but there was one fly in the ointment – Joris somehow lost one of his motorbike summer gloves and needed to start using the "winter" ones – in the middle of Summer… Also, as crossing to the UK was a totally new experience for Agata she got a bit nervous and that added to Joris's frustration…
First hours in the UK we spent on adjusting to the local traffic – driving on the left, navigating through zillions of roundabouts, riding on narrow roads with no lay-bys and with hedges obscuring the views. We spent the first night in England at a farm found via Bunk-A-Biker – next to horses, alpacas and goats. From there, we moved up, to central England where we met with Agata's Friends – Agata and Hubert and reorganised a bit (laundry, internet, plans for next days etc.).
After a rest day, we crossed the beautiful Peak District (the weather was not really good for taking photos, but the ride was absolutely fantastic). Then we found ourselves in Birmingham during rush hours (not fun at all!) and in the late afternoon we showed up in Ragley Hall for the Adventure Bike Rider Festival 2022.
ABR Festival
The check in went smoothly and we found ourselves a camping spot. As it turned out later, we ended up in a VIP section (it was not marked) and next to a group of Polish bikers. And then we actually did not leave our spot for two or more hours, because a some friends or people we knew just appeared and we were engaged in loads of talks.
The festival weekend passed by with talks, hanging around, listening to some music (some very good tribute bands played at the event!!!), attending a few workshops (Trial Riders Fellowship – you are doing a great job!) and basically resting. We did not ride the bikes over that weekend (fore additional fee it was possible to ride a "trail" around Ragley Hall, but it was extremely busy, and we did not feel like spending additional pounds on it).
The festival venue was a wonderful place. But the festival itself felt a bit too commercial and overcrowded for us (10 000 people!) And the beer and food was overpriced 😉 Apart from that everything was great: clean toilets and showers with hot water, a lot of bike dealers with the recent bike models, some famous and/or special motorbikes on a small exhibition, great workshops and presentations and live concerts. And the weather was perfect – mostly sunny with just a few showers.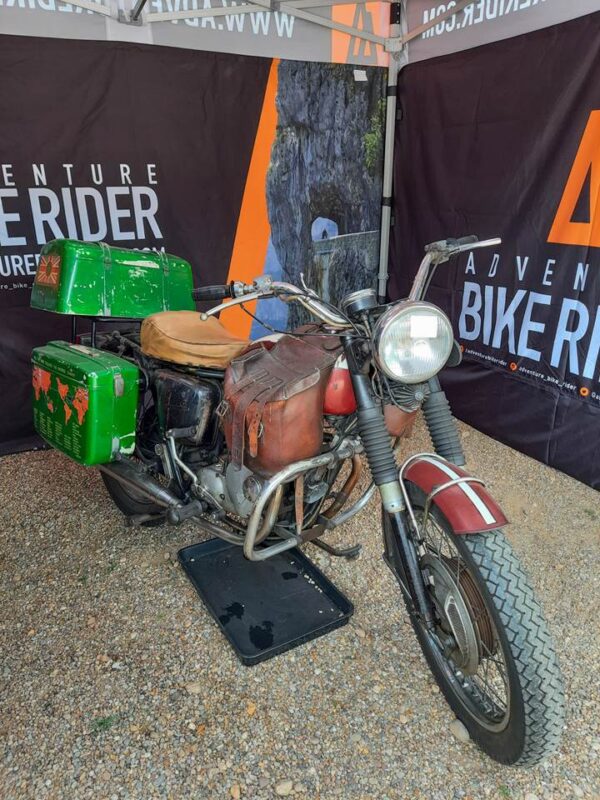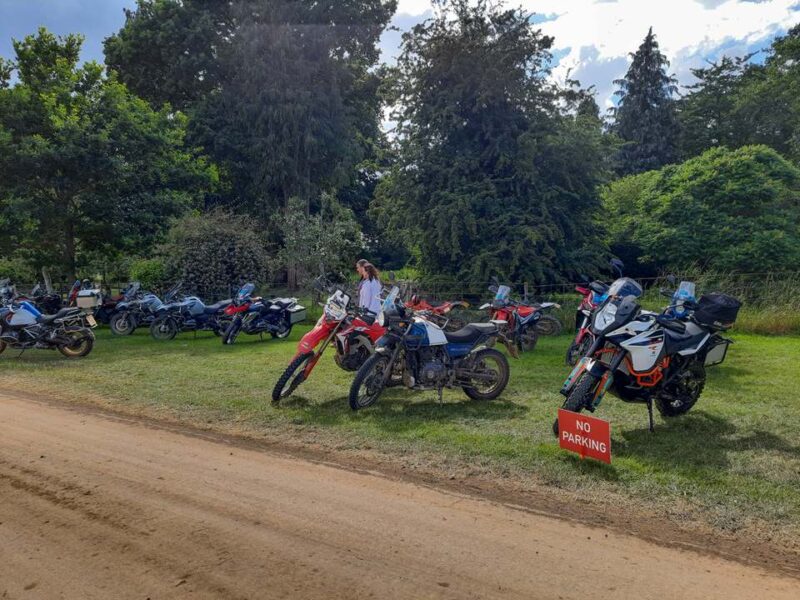 After the ABR Festival ended we no longer had any appointments and could start traveling slowly, where we want, following the good weather and our hearts.
Thank You's
Agata's Family and Friends in Poland
Joris's Family and Friends in Belgium
All bikers we met at IZI Meeting
All bikers we met at Eastend meeting
Pascal and Francoise from France for hosting us before we crossed the English Channel
Glen / Bunk-a-Biker – for organising our first night in the UK
Agata and Hubert – for hosting us and helping with sorting things out during our first days in the UK
All bikers we met at ABR
Our Supporters, especially Coolride, Moto Adventure Store and Motoz for your help on the way
Hints and tips
Buy the right size of flip-flops 😉
Wildcamping in England is not allowed and even if you want to bend the rules and do it, it's really difficult, as the fields are fenced, many roads have "no entry" or "strictly private" signs. We suggest finding a camping or again – using Bunk-a-Biker. There is a facebook group dedicated for UK and Ireland.
Crossing the English Channel is cheaper with a ferry. We used Irish Ferries as they offered best rates.
General impressions from this stage
everything goes slowly – you need more time for simple things
we are missing music
we don't feel like taking photos or filming – we are hungry of riding 🙂
we got tightfisted 😉
bruises on your body appear from nowhere 🙂
bright green towels attract all the bugs in the area 😉
it is not that easy to get data sim card in the UK – to top up the account you need a residential address in the UK… or a UK friend that will top up for you
we were sick of roundabouts already on day 1 in the UK
Route
Stage Video