Senegal is made for chilling by the Ocean. We felt it strongly, probably because we really started noticing the fatigue from being on the road for many months, lack of proper rest and high temperatures. This is why instead of rushing to Dakar, to have our paperwork sorted out, we decided to stay for a couple of nights at Zebrabar.
We really enjoyed the calming sound of the waves on the ocean and the company of colourful birds. And crabs. One even tried to break into our tent at night 😉
Dakar Myth
We left Zebrabar and drove to Dakar, to get our Carnet stamped. A 200 km route took 6 hours, due to heavy traffic in Dakar area. Old stinky diesel lorries, extremely high speed bumps and African driving style combined with 40+ degrees heat made it rather an unpleasant ride. However, the whole procedure at the Customs Office went smoothly. We also managed to get the insurance at one of AXA offices and exited Dakar by highway (still busy and for a small fee, but we did not feel like another 50 km in traffic jam).
We headed to the Pink Lake (roadworks made the route "fun" again, as we needed to cross some villages and their narrow streets with deep sand) to see that due to the high water level the lake is not pink at all. We stayed at one of the few campings that were open (the rest was either flooded or permanently closed due to lack of interest from tourists) and chilled for a couple of days.
We don't really understand the phenomenon of Dakar. It is an ugly, stinky city, with extreme traffic. There is not even a board or anything where you can take a photo and say "I reached Dakar". Probably it is still the Paris-Dakar Rally myth that is out there, not really matching the reality and not really worth it either.
Senegal
Then we moved south, to Joal-Fadiouth, where again we had some good rest time, staying at the school run by nuns, eating out in very local "restaurants" and taking a pirogue boat tour around the Shell Island.
We took our time while traveling through Senegal. One day we did only… 30 km, but it was still enough: it was warm and we did not rush, enjoying doing the "tourist" stuff and taking the time to fly the drone over the salt pits near Palmarin. The view from the ground was nothing special, actually a bit disappointing with the garbage and fabrics all around, but from the sky all looked way more spectacular, but still not as colourful as on Google Maps 😉
We often saw quite heart-breaking images of places that were totally ruined in a scenery that could be a paradise. There was a huge number of buildings, campgrounds, hotels that were abandoned, collapsed and full of garbage. Such a shame, but well, this happens in many of the places in the World.
We more and more felt we need a longer break to reset and recharge, stay in one place, do some laundry (desperately needed!!!), clean and thoroughly check the bikes, find decent wifi and upload the backlog of videos and do some planning for what was ahead.
With that in mind, we crossed to The Gambia.
The Gambia
The Gambia welcomed is with a relaxed atmosphere and a lot of smiles. The border crossing was easy (we took a sleepy border in Sabi, highly recommended), even though we "lost" a page in our CPD due to incorrect stamping on Senegalese side and we needed to fully unpack to show ALL the things we carry with us on the Gambian side (the guys were just curious what we had, they were not looking for anything in particular).
Then we were stopped a zillion times by the police, gendarmerie and/or army – just for a chat, so riding 70 kilometres took forever. And then we turned up in Georgetown, where we decided to stay for two nights in a lovely place at the edge of the town.
Georgetown was a pretty random choice for us to stop over, but we really enjoyed the time spent there. We had a nice walk through the town (by the way, Joris = George so it was "his" town 😉 ) visited a local museum and learned about masquerades (fascinating but a bit scary), saw the huge baobab, under which a ritual circumcisions are held every 5 years (now not performed on girls anymore) and listened to an interesting history under the Freedom Tree.
We also took an overpriced boat trip on The Gambia River. We were lucky to meet a family of 7 hippos. At some point we were really close in our boat and they got annoyed a bit, so we needed to leave. Quickly. Hippos move faster under water than the boat goes… We also saw some crocodiles, pythons, monkeys and different birds… Nature is amazing here.
After a couple more days of riding we were close to Banjul where we stayed in a guesthouse for a bit, waiting for our friends to return to their home at the Gambian coast, so that we could visit them and have a well deserved holidays. Since the beginning it was our goal and we were so much looking forward to it.
To be honest, The Gambia was not exactly what we had expected. The beaches were not really "clean paradise beaches", everything was rather expensive, food was boring and we missed fruit and vegetables. Everything had an irritating addition of sand, the temperatures were unusually high (we were told it was 10 degrees warmer than it was supposed to be) and we could not rest as comfortably as we needed. Everything was starting to annoy us and all that affected our relationship.
We could not continue going towards even more challenging countries. We needed to change it.
So after 6 months on the road and 23500 km covered we decided to turn around and head back to Europe.
Senegal… again
We crossed back to Senegal in Farafenni and this was the one and only time we needed to pay something to corrupt officials – Gambian Immigration officer put our passports in the drawer and would not release them until we paid ~15 EUR. Not much, but still should not be happening and that just added to the overall frustrations.
The ride north through Senegal, was however one of the best we had on this trip in Africa – we ended up on some lovely dirt tracks with nice views. And even the fact that one of the roads we took to avoid a "corrupt checkpoint" reported on iOverlander (and confirmed by many people we met) resulted being a dead end after riding 25 km of it and having 2 more to go was fine, as we enjoyed the ride a lot (but then nearly made it to the petrol station, after riding 50 extra kms).
We headed to Zebrabar again, where we rested before crossing to Mauritania.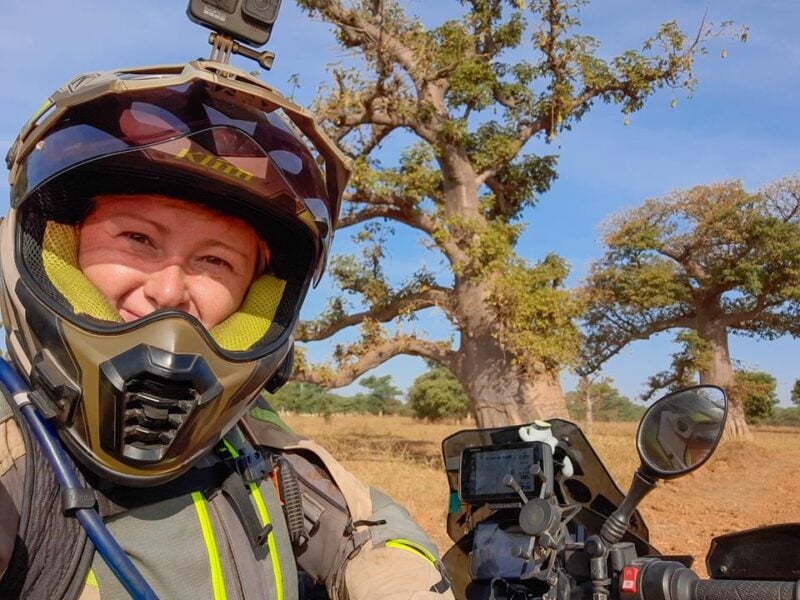 Hints and tips
Take the Diama border crossing into Senegal from Mauritania. Unless you want to pay a lot at the Rosso border and feed the bribing machine.
If you need to go to Dakar for the paperwork, please consider 2 options: stay outside of the city and take a taxi or if you still want to get into the city, use the highway – yes, it is a paid one, but saves time and nerves.
If you plan to visit more countries, consider buying the Brown Card insurance – note, that the prices are dependent on the engine capacity and may differ greatly depending on the issuing office – we paid in Dakar same amount (approx 50 EUR) for 2 big bikes as our friend in St. Louis for one small bike for the insurance for the same period.
Obey the rules and be kind to the officials – if you don't give them a reason it will be harder for them to squeeze the money/bribes out of you. Do not braaap through the dusty villages – respect the locals and other travellers – once we had more sand in our sandwiches while elating at the side of the road, because some bling bling enduro and quad riders needed to show off…
Know how much things cost and don't spoil the locals with overpaying, even if things seem cheap to you. There are official fixed prices for petrol, water, bread and other basic items.
Don't expect too much from the more expensive hotels – when paying 60 Eur per night you may still have nothing working in the room and no (or cold) water…
Again, iOverlander is extremely helpful.
Route
Video
Video Logs