What equipment do we use when camping? For us, the gear needs to be of good quality and durable, lightweight and not too bulky and make us feel comfy. Check out our current setup.
Sleeping
Tent
For a long time we were wondering which tent to buy. It needed to be light and not too bulky when packed, but spacious and comfortable when assembled. After some research and asking for opinions we decided to buy MSR Mutha Hubba NX 3-person tent, which is great for the two of us and some gear stored inside.
When we first put it up on the roof terrace we were a bit disappointed that the construction is wobbly and the sides are not tense enough. However after using the pegs and guy lines the tent was just as it should be. So far it has proven to be comfortable, watertight, well ventilated, fast drying, and easy to use and carry.
To protect the tent floor we also use the Universal Footprint.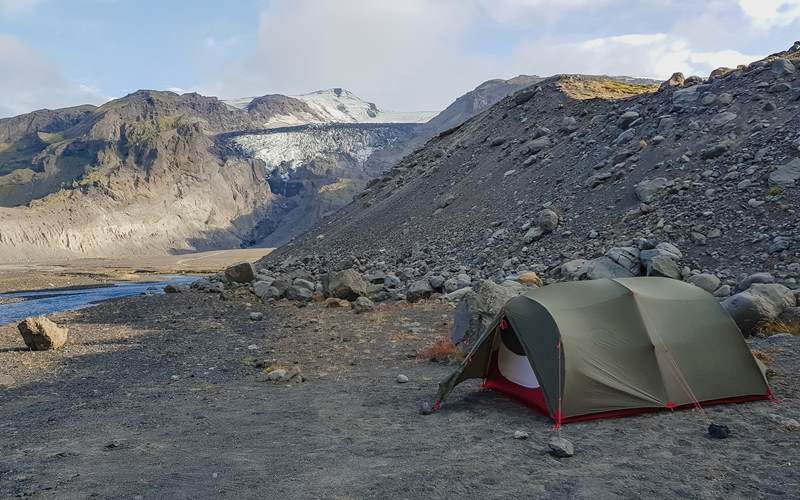 Mattress
This is always tricky. If it's soft and comfy – it is bulky. If it is compact, it is not properly isolating the cold coming from the ground.  For quite a while we've been using Nordkap Torino Air Mattresses  (super comfy) but then we switched to Therm-a-rest  NeoAir Xlite ones which are twice as small and three times lighter with comparable comfort. They are a bit smaller in size, so if you move a lot during your sleep you may need to adjust your position at night, but the pros outweigh the cons and make them the best choice for us.
Sleeping bag
Agata has been using Cumulus down sleeping bags for a while (LiteLine 300 and Panyam 600), so we jusy bought a second Panyam 600 for Joris and we are all set. Regardless of the season, those sleeping bags prove to be the right choice.
And they are orange 🙂
Sitting
Travelling on a motorbike does not mean you do not deserve any comfort when you are off the bike. We went for Helinox and their Chair One and Table One.
Each chair weighs less than a kilogram and could hold us both and additional 20 kilos of stuff (but then probably will not be that comfy anymore 😉 )
The table is even lighter and has integrated mesh holders for your drinks so you don't accidentally spill them.
Tip: ensure you choose the adult version of the chairs… we wanted to spare some euros and initially bought a cheaper version that turned out to be designed for kids aged 2-10 and although it could hold up to 90 kilos, which is fine for either of us, it was really downsized compared to the "normal" version.

Cooking and eating
Stove
We actually have two options here. To just quickly boil the water for tea, coffee or dryfrozen food, we use Jetboil Flash system. It is super quick and efficient, but you need to make sure you have the gas cartridge with you.
Tip: warming up soup  is also possible but make sure you do not overfill the cooking cup, as otherwise the soup will just be everywhere outside 😉
For more proper cooking we went for MSR WhisperLite International stove that can be used with any type of fuel.
Tip: Read the manual or watch our short video to make sure the fire is under control 🙂
Cooking set
For a long time we have used a standard cooking set bought in a big adventure shop. It was OK to use until we came across something better. We are always open for advice from other bikers and travellers and on one of our trips with a great couple, Beate and Pawel, Joris went ahead and did the dishes and was very happy with how easy it was to clean the pan from the cooking set of our friends. We immediately decided to buy same Optimus Terra HE Cook Set for us.
Fun Fact: Not long after we got ourselves the Optimus cook set, and used it while camping at the skydiving club, Agata took a part in the photo contest and won another cook set: Sea to Summit Alpha 2.2. It looked and felt great, too, but as we already had one, we gave the new one as a present to Agata's sister 🙂 The winning photo is below and the contest was about sharing your best outdoor meals.
Cutlery
Joris used Baladeo Ultimate Ultralight set. For Agata we bought Baladeo Papagayo, with some more functions like e.g. corkscrew. Joris got a bit jealous about this particular feature so we now have two Papagayo sets. Just in case Agata leaves Joris somewhere it the middle of nowhere – he will at least be able to open a bottle of wine 😉 But we must admit that the knife in the Ultimate set cuts steaks better 🙂
Plates
Foldable X-Bowl by Sea to Summit does the job perfectly. We have four of them. They perfectly fit in the Optimus set, so no issue with packing.
Other stuff
There are some other things that we find useful or think they may come handy at some point, so we have them with us on every trip.
Tarp
It comes very handy as a protection from sun, wind or rain (for the latter two it was a great choice for our trip to Iceland and Faroe Islands). We recently bought some tarp poles so are still experimenting on the best way to use them (we've had some massive failures already).

Emergency blanket
If it gets really cold you can use it as additional protection isolating the mattress from the tent floor. Or wrap around you. Or cover your gear.
Carabiners
They don't have to be very big or have the high working load, but they are useful for hanging the thing around (e.g. a water bladder on the crash bars of the bike). Zip ties would do as well, but they are single use 🙂
Folding bucket/bowl
Great for doing the dishes or even "taking a bath". It can also come handy when doing the laundry. However, for the latter we use the Scrubba Wash Bag – so far works great.
---
Of course the above is a living list of camping equipment. We will make the updates in the post as the setup changes as we go (and "sneak peek" on what other bikers and travellers are using) or we realise we forgot to list something here.