The idea
Iceland and Faroe Islands have been on the bucket list of each of us for a very long time but we never got around to do it. Only after we met it just seemed as a perfect destination for a first serious bike trip together. After knowing each other for not more than three months we went ahead and booked the ferry. Then we started drafting a plan – what to see, where to go and how to avoid crowds but at the same time see what the country has to offer, including the most famous attractions. And the rest was history 😉
Getting there
There are a couple of options to get to Iceland and Faroe Islands. If you have limited time you can have your bike shipped in a container by a company specialised in transporting bikes. There is a number of them, but if your starting point is somewhere in Central Europe, I can recommend Moto Birds.  Then you just need to fly to Reykjavik and pick up your bike.
If you have more time you can choose a ferry. This is the option we went for: Smyril Line from Hirtshals (Denmark) via Torshavn (Faroe Islands) to Seydisfjordur (Iceland). They often have some special offers and in our case we were able to pay only for the 2 people (cheapest cabins i.e. male/female couchette compartments with breakfasts) and the bikes travelled for free – the only condition was that on the way back we need to depart at Faroe Islands and board again after 3 days to continue our return trip. Not bad at all, as it gave us the opportunity to visit the Faroe Islands.
We packed our bikes on a trailer and towed them to Denmark. and left at a parking a few kilometers away from the harbour, where we arrived a couple of hours prior to departure to go through check-in and so on. There was not much information provided and basically nothing happened until the ferry arrived and passengers started to get off it. We felt a bit jealous that they have already experienced the adventure, but at the same time excited about what is coming. Some bikes appeared quite damaged, so we hoped nothing like that happens to us.
Once the gates got opened, the check-in went smoothly, so did the boarding. We were guided where to park the bikes and strapped them to the floor. Then we could get to the cabins.  The cruise took nearly 2 days, but luckily there are some possibilities to kill the time on the ferry. We especially liked the evening concerts and happy hours at the bar 🙂
Icealnd
After entering one of the fjords, the ferry docked in Seydisfjordur, a small town on the eastern side of Iceland. Coming ashore also went smoothly and shortly after we could begin our trip. We first stopped at a small petrol station to adjust our luggage and then at the shop, buying some essentials. And then – the adventure began.
We first went up north, to Vopnafjordur, where we ate some lunch. On the way we were just breathing in the raw landscapes of Iceland. We also managed to lose our Garmin Monterra 🙁 Then we decided to go back a bit and find the turn to the small road we planned to follow. We had some difficulties locating it, but with some help of a local farmer, who opened few gates for us and showed us a way for few kilometers, we were on track. literally, as this was not really a road. Soon we encountered first river crossing. And it took us more then 2 hours to get through. Probably if we had to cross it towards the end of our trip it would be way easier, but we were just warming up. The current was strong, the rocks on the bottom were tricky and at some point one of the bikes did not want to start, which was not too good. Eventually, wet and tired, we managed to get to the other side and after driving for an hour or so we called it a day and set up a camping for the night. There were just two annoying things – we could not make a campfire (there are literally no trees on Iceland!) and we needed to choose between being exposed to the wind or annoyed by flies.
The next day brought even more challenges – deep sand, steep hills, river crossings and we did not cover a great distance at all. In the afternoon we reached Grimsstadir, where we stopped for lunch. We enjoyed the place so much we decided to rent a room in the guesthouse and have a well deserved rest. Unfortunately the nearest shop where you could buy some beer was like 80 km away, so we needed to stick to tea 🙂
As we were back to "civilisation" and close to the main road where most of the tourist attractions were located, we decided for some sightseeing. Detifoss, Godafoss waterfalls, Hverir boiling mud pits stinking of sulphur, Krafla power plant, Hverfjall volcano, lava fields Dimmuborgir… It was jut too much and caused some tension so the day ended pretty badly.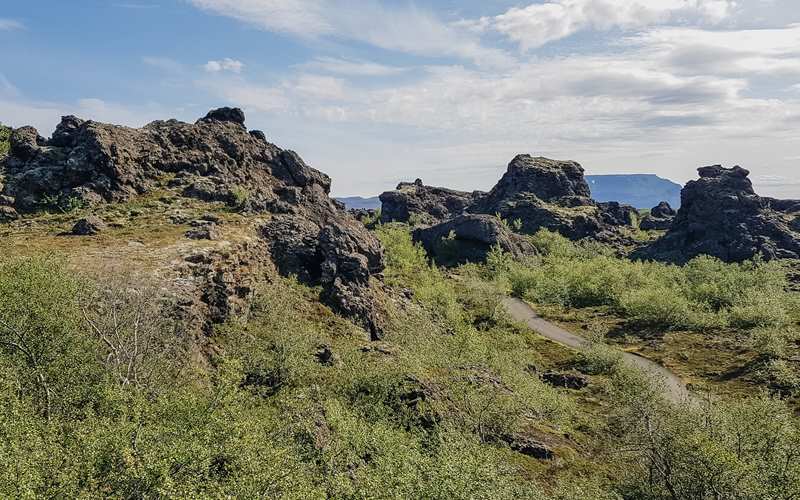 Road 842 smoothly switched to F26. F-roads in Iceland are gravel or dirt roads, not maintained, with many river crossings and other challenges like sand, socks, washboard and other fun stuff. The number of cars and tourists decreased significantly, as only 4×4 vehicles are allowed on those roads and any damages to the cars are not covered by insurance. The landscapes became even more out of this world. The Aldeyjarfoss waterfall, right at the beginning of F26 was also more stunning than previously seen and more known waterfalls. We even stopped counting the river crossings.
From F26 we turned into F881 and then continued on F821 to Laugafell where we found a mountain cabin and hot springs. It was still too early ind the day to end it, so we had a hot tea and continued battling the terrain and river crossings on F752.
Soaking wet at the end of the day we made it to one of the most beautiful valleys we have ever seen. Trying to find some place to stay we came across Viking Rafting where we could put up a tent, have some warm tea and eat a Chef's special meal with a group of rafting enthusiasts. A fantastic and friendly place to drop by.
In the morning we headed up to Varmahild to fill our bellies with some food and our bikes' bellies with petrol (we met two nice bikers from Lithuania there) and then towards The Westfjords. The wind got stronger as we travelled West. We made a round tour of one of the peninsulas, stopping for the night in a small fishing village Drangsnes and then went further into the Westfjords to try some F-roads.  We did a part of F66 but found it too challenging for that day so turned back and chose easy but picturesque 608. We joined the main road and as we stopped to fill up the bikes and have a small lunch, we met a couple of UK bikers that we knew from the ferry (check out @miss.adv on Instagram). They were also struggling with the windy conditions and asked for some advice on the road we were coming from.  We rode south and in the afternoon started looking for  a place to stay. We entered a small valley with road 586, and followed the signs for guestrooms. The road turned into F-road and we still could not find the accommodation mentioned on the road signs. Due to extremely strong wind we did not want to put up our tent that day. We turned back and stopped at some place that looked like offering small cottages and we were lucky – we could stay there. Joris went to the shop for something to eat and turned up with a rotten shark (hakarl) and thin beer…
Next day we rode down to Reykjavik, making a small detour to see cascading Hraunfossar waterfalls and nearby Branfoss waterfall – still touristic, but not that much compared to what we have already seen.
We stayed in Iceland's capital for two nights and made a lot of walking around the beautiful and colourful city and enjoying ourselves in the bars and cafes. We also managed to meet a friend,  who plays a small yet important role in bringing Agata and Joris together.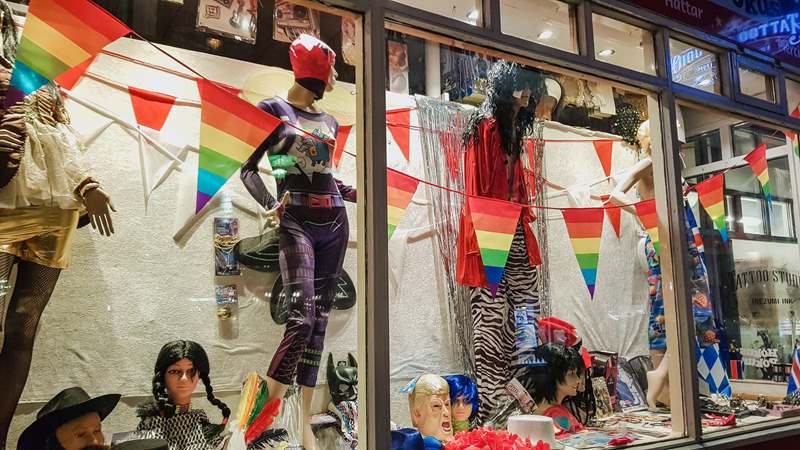 With less pressure than the last time, we set off to see some more tourist attractions: bridge between the North American and European tectonic plates (so technically we made it to America on this trip), active geysers (Geysir, Strokkur) and Gullfoss waterfall. After that concentration of civilisation and tourists in the Golden Circle we were happy to sleep in a tent in a very basic camping. (In the morning however the owner came to collect the camping wee with a bank card terminal 😉 )
Anyway, we were happy to hit the road leading to more remote areas again. We followed road 26 and then 208 which became F208 and the landscape became lunar. Totally out of this world!  The map showed around nine river crossings that day and it was a number far from reality, as we did at least twice as many. At some point they became such a routine, that Joris wanted to spice them up by entering at higher speed or showing off with big splashes. Finally he was in for it – soaked to the bone in a water not more than ankle deep… Luckily we were able to spend the night in a nice highlanders lodge and dry our gear.
Dry and rested we were ready for the next day. So we went back a few kilometers and entered F233 road. Then we got stuck on the first river crossing. Joris wanted to push on, but Agata was reluctant. The water was really high. Actually,  the weather has been perfect and quite unusual for Iceland – warm and sunny every single day. That caused the snow to melt and the water level in the rivers was unusually high. For that reason we were not able to  reach some destinations like Asjka – the roads were just impassable. We turned around and wend down to the coast. While riding we experienced a sandstorm, something we would have never expected in Iceland. (Later we learned that F233 and F210 we planned to take in the morning got closed because of this adverse weather and travellers who were on that road needed to turn back).
At the coastline we wanted to see the Solheimasandur Plane Wreck but the only way to get there was to walk there and back for a couple of hours or be taxied there. Riding our motorbikes was not an option, so after Agata making a spectacular fall on the parking gravel, we moved on to see Skogafoss and Seljalandsfoss waterfalls. The latter one offers a possibility to walk behind it, but to do so you need to queue and then walk in line of people, so again we said no to that and just watched it from the distance. Unfortunately Iceland seems ot be more and more crowded and the commercial aspect kills all the beauty of the visited places. Parking fees and queuing for entry immediately puts the place lower in our ranking list, no matter how beautiful it is.
We went to the nearest petrol station to gas up and then went on 249/F249 to try to encircle Myrdalsjokull glacier in the clockwise direction. At the entry to the valley we saw the sign that the road is not passable, but we just decided to go as far as we can. We did a couple of water crossings, Joris needed to fix the mounting of his bike's front suspension twice, as it got lose because of the extreme washboard. One of the river crossings made us stop and think if we'd go for it. We saw some 4×4 cars going in both directions and the water was extremely high. The ones approaching from the other site were telling us that this river is not yet as difficult as the next one that made them turn back. One by one we observed the cars coming back, even if the tacked the section we were standing at. It was getting late anyway, so we thought about setting a camp. And we were in a perfect location, at the bottom of Eyjafjallajokull volcano. We bet you remember it's eruption in 2010 that disrupted air-traffic over Europe. Joris was stuck in Kiev for about three weeks because of it and he found it more than appealing to have a piss on it 😉
It was freezing during the night but the beauty of the spot was totally worth it. We came back to the main road in the south and headed east. Very strong side wind made it quite difficult to ride. We stopped at some more touristic places like Dyrholaey volcanic rock arch and black sand beach of Reynisfjara and stopped for the night at a camping close to Skaftafell national park. The night was not easy at all as the camping was invaded buy Italian teenagers that kept jabbering loudly for half of the night. We thought they would stop when the rain forced them to get into tents, but then it just got louder as they were shouting from inside of the tents…
In the morning we went for a nice hike to Svartifoss waterfall. It did not have the massive amount of water we expected  after seeing the photos, but the hexagonal basalt columns made it a really nice place to visit. Then we took a peek on the Svinafellsjokull glacier and followed road number 1 to the east. The Diamond Beach was full with parked cars and buses, so we skipped it, stopping in a more remote place (the iceberg chips were not on the beach anyway – the summer seemed too warm) for similar views. The wind got more annoying and it started to drizzle, so we were looking forward to call it a day and rent a room to stay in. Unfortunately in every place we checked we were told all is booked. We checked each and every possibility to hear the same answer. We doubled the distance we planned to travel that day and we eventually found a super expensive accommodation in a village of  Djupivogur (claimed by the locals to be a pretty big town with its 400 or so inhabitants). We spent even more for the dinner and wine but – you only live once. At least we felt warm and cosy.
Before we moved on in the morning, we rode a few kilometers back to relax in a place Agata noticed the day before on the side of the road, and which was also recommended by one of the Polish waiters working at the hotel's restaurant: a tub with hot water. As we had not bathed in the hot springs on this trip yet, we  did not want to miss this chance. Fifteen minutes in super hot water was more than enough and charged with positive energy we set off to Seydisfjordur to catch our return ferry departing the next day. We took a road through Oxi pass (939) which was the last breathtaking place we saw on Iceland.
We spent the last night at the camping, making fun and sharing the stories of adventures with other bikers departing with the same ferry. The night was extremely humid, so our tent was soaking wet the next day – immediately after boarding the ferry we put it to dry despite strange looks from other passengers. Then we went on to the regular ferry activities: hanging around, checking out the bar (the crew recognised Joris and asked him to be their personal tester of new drinks ideas 😉 ) resting…
Faroe Islands
We arrived in Torshavn at 03:00. That meant we needed to leave the cabins about 2 hrs earlier, so actually we hardly slept that night. The weather was miserable with annoying drizzle. Most of the bikers went straight to the camping, but we thought that we would just sit at the petrol station and wait for the dawn. Unfortunately the petrol station was closed, opening only at 07:00. So we just decided to go somewhere. We chose the nearby Kirkjubour and soon arrived at the place.
The distances of Faroe Islands are small, the roads are good, so we cam back to the capital in no-time. Petrol station was still closed and drizzle changed to regular rain, so we headed to the camping, too, with the hope to get some rest. The camping reception was closed (as it only opened for a short time, to check in the people from the ferry) but we entered anyway. Initially sat in the kitchen but than Joris arranged a small sleeping corner on the floor. After some hours the rain was pouring, but at some point we decided we need to go somewhere as we did not come here to stay in the camping's kitchen. We headed towards the western part of the country (Vagar island) and also managed to book a place in a hostel near Sandavagur.
Heavy clouds and rain did not help with enjoying the ride, but we definitely felt this is a beautiful place.  We did not know there are so many shades of green! And all the cute houses with turf on their roofs. Just amazing.
The hostel turned up to be very tiny and without any place to put the luggage, so we really struggled to dry our equipment and clothes. Agata's room had no more than 6.5 square meters with 2 bunk beds and a small table with one chair. Luckily Joris got a bigger room and until remaining guests arrived we were able to use it as a drying room.
The rain was pouring but we decided to go for a walk to a village nearby where we found a very nice restaurant and where we stayed for the dinner and came there next day for breakfast. In the evening we also had some nice talk over beer with the Lithuanian guys, that also checked in to the same hostel. Overnight the weather improved so after exploring Vagar a bit more (Gasadalur village) we headed to the eastern part of Faroe Islands, reaching small villages on most of the northern branches of the Streymoy and  Eysturoy islands: Vestmana, Saksun, Tjornuvik (with a nice beach and a great view on Risin and Kellingin that is  the Giant and the Which that, according to the legend, wanted to pull Faroe Islands to Iceland but were caught red handed and turned into stone by sunlight). Usually this meant to go there and back by the same road, as headlands are quite narrow and mostly have one road and some mountains.
In the afternoon we took a beautiful road from Eidi to Gjogv where we decided to stay there for the night. We could ride more, but the place was too beautiful to leave. We put up our tent and enjoyed the peace disturbed only by sea gulls and waves hitting the rocks.
The next morning was rainy again, but we needed to return to Tórshavn to catch the ferry to Denmark. We did not rush, again exploring the scenic roads on Eysturoy and Streymoy islands.
We reached the capital in the afternoon, and we still had some time before the departure at 23:30, so we made a small tour around Skansin and historic part of town Tinganes and Reyn. We found a nice pub with craft beer and ate a very good dinner. When the time came, we met with other bikers waiting for the ferry to take us back to the continent.
Some numbers
Ferry: total cost for the return trip: 1180 EUR / 47 hrs one way
Iceland: 15 days / 2993 km
Faroe Islands: 3 days / 429 km
Cost: we never made a summary of the costs but Iceland is expensive. The night always costed around 100 EUR, whether it was a camping, cottage, shelter or boutique hotel in Reykjavik. We compensated a bit with wild camping, but it was not always possible. Only once the camping was around 30 EUR, but only because it was very basic – sort of wild camping with a clean toilet available. Also once we needed to pay 200 EUR (discounted price) for room with bunk beds and a shared bathroom… Fuel is of an "average European price", same with meals, drinks are quite expensive, but for tea/coffee it is most of the time a free refill until you've had enough and for alcohol there are often happy hours in the pubs/restaurants (you can't really buy decent alcohol in the shops – e.g. beer has only 2.25% alcohol and the regular price in the pub is around 10 EUR for a pint).
Hints & tips
You can eat full and relatively cheap breakfasts in bars close to petrol stations on the ring road (1).
Make sure you have enough fuel – petrol stations are near to the ring road but not as frequent asa you might expect. Sometimes the petrol station is marked on a map, but is non-existing in reality. When you enter interior, the next petrol station can be even 300 km away.
It does not matter if you have waterproof motorcycle boots or not – your feet will be wet anyway, as the rivers are often more than knee deep. You may want to take some waterproof socks with you. Also, make sure you have a spare set of gloves, as your hands will also get wet quickly.
For camping, make sure your mattress is isolating well from the cold ground – in the higher parts and close to glaciers the temperatures often fall below freezing level at nights.
River crossings are usually more difficult (deeper) in the afternoon so it's best to take the most challenging ones in the morning.
Southern part of Iceland is more touristic and busy and accommodation may need to be booked in advance. The opportunities for camping wild are rare.
On Faroe Islands the roads marked with a buttercup sign indicate particularly scenic routes.
On the ferry you can buy wifi access for basic internet services (video streaming is not an option). Make sure you switch off the data transfer and do not make calls, as the roaming fees for the on-the-sea service are killing.
Route
Iceland and Faroe Islands – enjoy our video from the trip